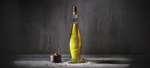 What makes a good quality extra virgin olive oil? Despite its popularity there remain many misconceptions about what comprises a quality olive oil, when to use it, how to store it and what its true benefits are. Further, with the commercialisation and demand for extra virgin olive oil outside the Mediterranean, quality and quantity have unfortunately paid the price. 
---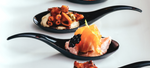 This week, after many months of preparation, Mediterranean Gourmet has gone live! Be it Greece, Italy, Spain, France or Portugal, we've been striving to single out artisans of authentic and eclectic foods. While some are established purveyors, others are recent entrants and others still, adventurers of molecular gastronomy.
---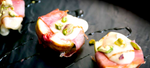 What makes a dish authentic and how do you synchronise often centuries old tradition with gourmet? From exquisite balsamic vinegar pearls, to truffle risotto and red wine infused fettuccine, the team at Mediterranean Gourmet seeks to discover artisans whose creations are born from a passion to remember the old, while envisaging the new.