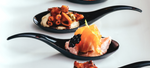 This week, after many months in the making, Mediterranean Gourmet has gone live!
Inspired by our love for the Mediterranean and already supplying a premium product to specialty stores in Sydney, we've expanded our wholesale into an online store, bringing together the very best from across the Mediterranean.
Our signature product is RX Estates Extra Virgin Olive Oil, which offers single estate vintages from the famed lands of Ancient Elis, the headquarters of the Ancient Olympic Games. 
It is on the lands that slope toward the famous Pineios River, redirected by Hercules in one of his great feats, that RX Estates groves can be found. Pure, unadulterated, authentic Greek extra virgin oil, RX Little Stones Estate, Riverine Estate and The Olives Estate vintages come straight from the groves to the olive press to the vats and bottles supplied directly to us.
In order to complement this exquisite olive oil we searched for artisan producers who shared our passion and who had an age-old know-how that had been passed down across decades, if not centuries.
In our journey we came across bespoke and premium collections, including olive oil bottles and fusti from Italy and France, created purposefully to maintain the freshness and organoleptic properties of olive oils and vinegars.
We found Olipac, the epitome in stainless steel olive oil accessories from Tuscany, Italy, who offer slick, unique, patented and modern designs, while Jars in the south of France enamoured us with their exquisite, handcrafted ceramic oil bottles, or 'huiliers' that come in a variety of colours reminiscent of the Riviera.
We met boutique farmers across the Mediterranean whose families have been toiling their land generation upon generation - some claiming to be using techniques from Ancient Greek and Roman times!
With each new meeting we noted a distinct characteristic that drew us into wanting to work with suppliers and their products. That was their passion for recreating the traditional into a coveted gourmet masterpiece.
From fettuccine infused with red wine on the island of Evoia in Greece, to experimentation with truffles in cheese, risotto and even as a truffle dust in Italy and Spain, to salt farms in the salt lakes of Western Greece, our producers have been delighting us with reinvented tastes of the Mediterranean.
While some are established purveyors, others are recent entrants and others still, adventurers of molecular gastronomy.
The Messino balsamic vinegar producers are the creators of a vinegar pearl, a gourmet delight featuring aged balsamic vinegar within a gelatine ball that delivers a burst of flavour at a precise gastronomic moment. Down Village, like many new innovators are creators of gastronomic superfoods, reimagining products to not only heighten taste but also health benefits.
Be it Greece, Italy, Spain, France or Portugal, we've been striving to single out artisans of authentic and eclectic foods.
As we launch Mediterranean Gourmet, we continue to search for outstanding boutique producers, to provide a gourmet Mediterranean range that inspires, pleases and satiates culinary expectations.
We hope you enjoy our range of vinegars, sauces, condiments, pastas, risottos, jams, cheeses, chocolates and more.
If you have a favourite you've found while travelling the Mediterranean, be sure to drop us a line and we'll ensure to do our best to find it for you!